Coventry City's supporters trust have planned a protest march for this coming Saturday in opposition to the proposed ground share with Northampton in order to fulfil next season's fixtures.
Following a rent dispute between the owners (SISU) and Arena Coventry Limited (ACL) the club announced that they would be playing their fixtures next season at Sixfields stadium - 34 miles away from Coventry.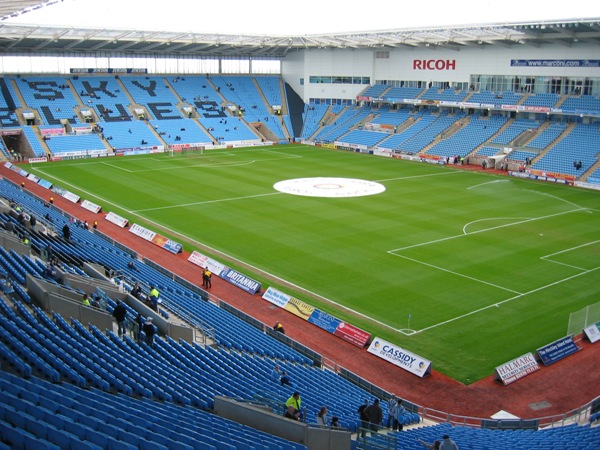 Ricoh Arena
The Sky Blues Trust have played a key role in campaigning for the club to remain in their city, but efforts are being ignored. They have attracted over 2500 members and are actively involved with other supporter trusts in an attempt to raise awareness for their cause.
CEO Tim Fisher announced that the only credible future for the club lay in "building their own stadium." This, at best, is unfeasible. Given the current financial situation it is highly improbable that a stadium would be erected within the next five years. Therefore, it is likely that should Coventry relieve themselves of administration, the potentiality of them playing at Sixfields, will become actuality.
The agreement, 'reluctantly' approved by the Football League, is conditional. Providing Coventry rise out of administration then they will have a ground to play at. However, administration seems like it has sewn itself to the hip of the beloved football club. The "not one penny more" campaign was initiated by the trust, and refuses to inject any money into the club until Coventry City remains in Coventry.
Funds will be difficult to raise as Presley has been left with few valuable assets to sell regarding players, and even if he did sell players, the club is under a transfer embargo for failure to file accounts. Again, this will be lifted should they fight administration. This embargo means that even if he had money to spend on players, he can't. It is likely that if players are sold they will be replaced by youth team players who ultimately are not ready to fight for the fans and promotion.
The website of the football club recently released their results from the supporters survey which showed some worrying statistics. First of all when asked if to preserve the long term interests in the club, would fans be willing to travel to an alternative ground to support the team in the short term, only 24.5% answered yes. 3015 participants answered the survey, so this works out at about 793 fans. Given that the average attendance last season was 10906, this works out that only 2726 fans would be prepared to travel to Northampton, a 7000 capacity stadium.
Secondly, a question was asked on the distance travelled to the ground by fans. 37.1% said less than 5 miles. This works out at 4046 fans travelling less than 5 miles to the stadium. So, even if 2726 fans would travel to an alternative ground, given that nearly half of the fans are within 5 miles, it is likely that the figure of those prepared to travel would actually dwindle as it is not truly representative of all fans anyway.
This in turn makes making any revenue near enough impossible. With no merchandise sales following the campaign initiated by the trust, added to the expected mass decrease in ticket sales, Coventry are well and truly in the thick of it. To make matters worse, ACL have announced that they had a pre-existing contract in place with Coventry and have issued a notice of intent to Northampton. Northampton have responded by saying they "will not be bullied."
For Coventry City, losing their club is a fast approaching nightmare and unfortunately, the true probability of the matter is that it's going to get worse, before it gets better.