Deadline day is almost among us, which can only mean one thing - the inevitable end to what was an often tedious, occasionally exciting, typically romanticised novel of a transfer story.
According to the BBC, Spanish giants Real Madrid have agreed personal terms with Gareth Bale.
However, this article has not been written to ponder over the plot. This article is the sequel; considering the effects of this belated bit of business and evaluating the preparation administered by Tottenham.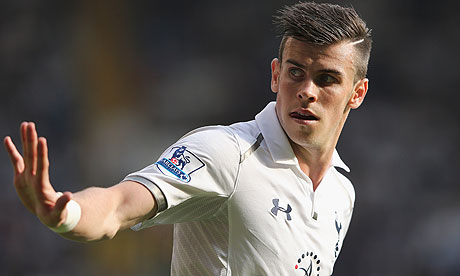 Bale moves to Bernebeu
With 21 league goals for North London club Tottenham Hotspur, PFA Player of the year, and Young Player of the year under his belt, Gareth Bale was one of the most talked about players of the 2012-13 season.
After earning the status of "one of the best players in the world", it was entirely predictable that sooner or later one of the footballing giants from outside of England would swoop in.
When the the deal has been officially agreed, and the transfer announced, there is no doubt that English football fans alike will wish the Welsh man luck in his quest to find Champions League success abroad. But the speculation now revolves around Spurs, and how they will fare without Bale.
Some have been quick to criticise, declaring that there is no way on this earth that Villas-Boas will be able to guide his team to Champions League success without his number one centre forward.
In actuality, Spurs have been extremely clever this Summer. They spent the £90 million pounds that Gareth Bale would earn them - before they sold him.
First they brought in Paulinho from Corinthians. Worth £17,000,000 the Brazilian has scored 20 goals in 86 appearances over three years, equalling goals in 23% of his games. This incoming broke the clubs record for a transfer fee. Paulinho's arrival shouted that Spurs were preparing. It said 'we know that Bale will leave, but we're going to break the record and splash £17 million!'
They went on to invest £7 million into Nacer Chadli, who also in three years, scored 25 goals in 84 appearances for FC Twente. A winger, who clearly knows where the net is. Again, this said that they were looking at their options and being realistic about the future.
A third signing made Spurs appear an unstoppable force. Roberto Soldado arrived at White Hart Lane for £26,000,000, smashing the previously already broken record. In the same amount of time as Paulinho, Soldado scored 59 goals in 101 appearances - meaning he has scored in nearly 60% of games, averaging on around 20 goals a season.
Considering Gareth Bale scored 21 league goals last season, bringing a striker in with a very similar but more consistent record undoubtedly implied that this was a replacement signing. A player who can do what Gareth Bale can do.
Already this suggested that not only were Spurs able to find suitable replacements in time for Gareth Bale's departure, but they were also making the statement that they will be contending for Champions League this season - without their star forward.
Also joining the North London outfit this season is Etienne Capoue - a defensive midfielder, or defender. In 2008, he was nominated for the Ligue 1 young player of the year and made 174 appearances for Toulouse since 2007.
Today, the club finalised a further two deals - bringing defender Vlad Chiriches and forward Erik Lamela in for £8,500,000 and £25.7 million respectively.
Defender Chiriches made a total of 62 appearances at
FC Steaua Bucharest, scoring four times and at the age of 23, has been capped 19 times by the Romania national side.
The signing of Erik Lamela has broken the club record for a third time in one transfer period - spending £25.7 million, with up to £4.2 million in bonus payments.
Tottenham have gone into the Premier League bold and strong, acknowledging that their most profitable asset is on his way out - but clever enough to have spent the vast amount of money wisely and with time to spare, unlike their rivals Arsenal.
They have won both of their League games so far, and have beaten Dinamo Tbilisi 8-0 on aggregate in the Europa League qualifying play-off round.
The North London derby takes place on Sunday, and it will definitely be interesting to see how the two rivals fare against each other given this summer's transfer business (or lack of for Arsenal).
It is impossible to predict what the League will look like at the end of the season, but Tottenham Hotspur deserve more credit than they have been given. Despite their impressive signings, many people believe that without Bale they will be unable to finish above Arsenal or achieve Champions League status.
Some look at them as the underdogs still, but one thing is for sure - they have proven that they can, and will cope without Gareth Bale.