Civil partnerships, equalised age of consent, legislation passed of same sex marriage. These rights have all been granted to homosexual citizens of the United Kingdom in an effort to fight homophobia, in the battle for equality.
So why, in light of these amendments, and in an age where racism and sexism are becoming intolerable offences, does the football industry still struggle to accept homosexuality?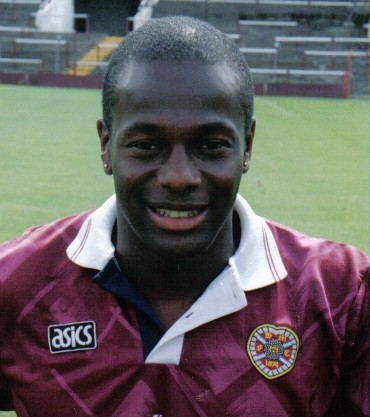 Fashanu
Justin Fashanu. He was the first black footballer to command a £1,000,000 transfer fee. He was also the first openly gay English Premier League footballer. Fashanu was questioned by the police in 1998 after a 17 year old boy accused him of sexual assault, for which he was charged. The footballer stated that the sex was consensual. On the morning of May the third, 1998, Fashanu was found dead. His suicide note stated his fears that he would not get a fair trial. He thought this, not because he was black, but because of his sexuality.
That was 15 years ago. 15 years later, and barely any other footballers have followed Fashanu's footsteps of coming out.
September saw Joey Barton spearhead a campaign in conjunction with Paddy Power and gay charity Stonewall in an attempt to show support to any gay footballers, with a hope to spark debate too. The campaign involved every professional footballer in the UK receiving a pair of rainbow laces to be worn on matchday. Barton expressed his support by wearing the laces, and encouraging others to do so via twitter.
While many clubs did support the campaign, others refused to get involved. Justifications being centred around conflicting sponsorship deals, or even complaints that they were not given enough warning due to the laces being sent out on short notice. Perhaps a poor excuse given that laces take less than five minutes to attach to boots but it was an excuse used nonetheless.
Idealistically, it would have been fantastic to see 100% cooperation between football clubs and the campaign. But, realistically there is only so much a campaign can do.
In 2012, The FA planned to launch an anti-homophobia campaign video. The event was postponed when no Premier League player would agree to publicly endorse it.
Is this what our society has come to? That a sporting idol, a child's hero, feels that they can not publicly back a video promoting anti-homophobia?
While Barton's efforts were valiant, it is going to take more than one footballer declaring their support to have an impact on combatting this issue in football.
On the other hand, it is not fair to say that efforts are not being made to reduce homophobia in football, because they are. Kick It Out, Stonewall, The Gay Footballer's Support Network to name but a few advocates of equality within sexuality.
Despite this though, the ball doesn't really seem to be rolling. It is worrying that we have developed a generation of footballers who feel that they can not support such a cause publicly. That isn't to say that footballers don't support anti-homophobia because it is probable that many if not most do. But the problem is that there is no face representing anti-homophobia to be seen by the public eye.
Jason Roberts, Clarke Carlisle, amongst a whole variety of other footballers are public supporters of anti racism. One look at Show Racism The Red Card's website displays immense support from footballers backing the cause.
The same can be said for sexism, Karren Brady, Gabby Logan and Clare Balding all have made themselves into role models for tackling sexism, paving the way for young girls to become involved in the industry.
But regarding homophobia, there seems to be a distinct lack of support in comparison to other forms of discrimination from footballers. This is not to detract from supporters of the rainbow laces campaign, such as Barton or Gary Linekar. But it is imperative that should this issue be tackled efficiently, in the same way as racism and sexism, more footballers need to declare their backing.
For that to happen, as a society, we need to show footballers that representing anti homophobic campaigns is supported, praised, commended. It will be a daunting task, for a footballer to publicly back a campaign that is susceptible to so much controversy, but no footballer should be made to feel that they will be ostracised, criticised or degraded for backing such a campaign.
In fact, they should know that they will be supported, by the FA, by anti homophobia groups, by football fans, by a nation as a whole.
A survey initiated by Stonewall revealed that three in five fans believe that anti-gay abuse from fans dissuades gay players from coming out. This shows not only that anti-gay abuse exists, but that people are aware of it. People are aware of it and are not stopping it.
Preventing anti-gay abuse is difficult due to the ambiguous nature of the insults. "Gay" has become an every day word used by the public. For example, "don't be so gay" or "those shoes are really gay" – in examples such as these, would it be fair to say that it is "homophobic" abuse, or is it just a misuse of the word with connotations such as "girly" or "not masculine." When people use the word 'gay' as an insult, are they really demonstrating homophobic behaviour or are they just using it as a substituted word for what they really mean? The latter seems more probable.
Essentially, this is what makes targeting those who genuinely discriminate against homosexuals so much harder.
The survey also revealed that two thirds of fans would feel comfortable if a player of their supported team came out. While this is an improvement, we must ask why a third of football fans would feel uncomfortable if a player on their team came out as gay? A player's sexuality has no impact on their performance on a football pitch.
The rise of media has lead to revelations of scandals involving footballers and prostitutes, for example. Do one third of fans feel uncomfortable by that? Doubtable. So why should the sexuality of a footballer matter to a fan?
It's a question that no-one can answer other than the fan themselves. But this surely is a massive part of the reason as to why footballers feel they can not represent anti homophobic campaigns, or why they can not express their sexuality.
Stonewall's survey obtained results showing that over 50% of football fans believe the FA, Premier League and Football League are not doing enough to tackle anti-gay abuse.
While this may be true, as with campaigns, there is only so much the football governing bodies and it's leagues can do to tackle the issue. This is because they can not speak on behalf of the entire body of football fans in this country.
Essentially, this battle against homophobia begins at grassroots. Fans need to support anti-gay abuse campaigns before footballers will take to the stage and become ambassadors for the cause. Footballers need to know that they will be accepted by their club, teammates and supporters if they did come out as homosexual.
While two thirds of fans may accept it, there is still a vital third who won't. Until that changes, it is unlikely that footballers will feel comfortable representing anti homophobic bodies, or coming out as gay or lesbian.
So perhaps, the campaigns need to be targeted at the fans themselves. If this is to happen, it will require education, patience and clarity. That third of football fans need to understand that sexuality does not define a footballer as a person, or as a player. Campaigns, and the FA need to show patience while this process happens, but they also need to show a categorical stance of intolerance on the matter.
As with racism, and sexism, homophobia needs to be universally understood as intolerable in football. This means that consequences need to be enforced. There is evidence of this already happening; after homophobic chants at Brighton v Derby, two brothers were banned from attending football matches for three years. This is progress but for consequences such as these to be taken seriously, they must be universalised across the country.
Changing that Stonewall statistic from two thirds of fans being comfortable if a player came out as gay, to three thirds of fans being comfortable with it, will prove difficult, but it must be an objective.
The next step in tackling homophobia in football is for another English footballer to come out as gay, but unlike Fashanu, to not fear for his rights, to not be scared that he will be treated differently, but instead, to be comfortable with his sexuality, and to know that he will be accepted
.